The U-200 tire changer is well suited for small service garages and motorcycle/ATV repair shops. This is a wheel clamp tire changer model designed to work with steel wheels and higher priced alloy wheels without causing damage to the rim or the tire. Other features found on the U-200 Tire Changer include:
A tire inflator with no bead blaster.
Three different positions for the clamping jaws.
The oiler, regulator, and filter are included as standard.
Operates between 116 nd 145 PSI.
Require no special electrical connections and operates on 110V.
Inner clamp range from 10 inches to 21 inches.
Outer clamp range from 12 inches to 24 inches.
Accommodates tire up to 39 inches with maximum wheel widths up to 14 inches.
The powerful bead breaker on the unite u-200 tire changer is able to break even the toughest of beads, even those that are rusted, without causing damage to the rim or tire. The clamping jaws are designed to work with standard plastic inserts. The inserts help hold the rim firmly in place and prevent damaging the rim's surface.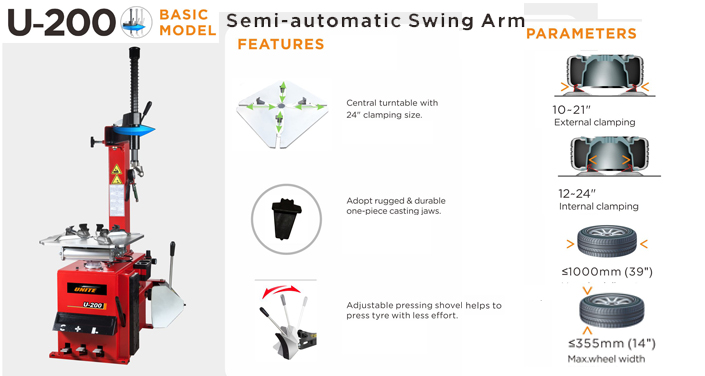 If you operate a larger repair shop or are a tire dealer focusing specifically on tires, rims, and wheels, then the U-221 tire changer would be a more appropriate machine. This model offers wider inner and outer clamping ranges to work with tires up to 39 inches and wheel widths up to 14 inches.